SIEMENS GAMESA Case Study
BFG International has a strong reputation for delivering next-generation composite design and innovation to a host of global industries and is renowned for being one of the world's most knowledgeable and experienced composite manufacturing partners for the wind energy sector.
With industry knowledge spanning more than 43 years throughout its integrated network of worldwide facilities, BFG International excels in providing cost-effective and sustainable solutions for wind energy parts including nacelles (electronic bed plate covers) and spinners (central rotor hubs).
From an increasing need to meet the challenges faced by climate change, BFG International has recently been involved in a world-first to help production of the most powerful offshore wind turbine for unprecedented sustainable energy production.
The Challenge
Siemens Gamesa is a world leading manufacturer and supplier of wind industry solutions that provide clean energy for countries all around the world. The company installs onshore and offshore wind turbines that generate over 130GW globally, and provides sustainable growth and value across the wind energy supply chain.
Siemens Gamesa recently embarked on the production of its latest wind turbine model: the SG 14-222 DD—the world's largest wind turbine intended for offshore energy generation, with power rated at 14MW.
BFG International was approached in March of 2020 by Siemens Gamesa to provide an innovative solution to the wind turbine's spinner. It would be the largest wind turbine spinner ever manufactured, requiring a design that could support the turbine's rotor diameter of 222 metres. The spinner would also have to endure severe offshore weather conditions including extreme wind loads, at locations such as Dogger Bank Wind Farm off the coast of England.
A major challenge involved the size of the component. The surface area of the spinner needed to cover over 100sqm—enough to house three rotor blades, each measuring 108m in length. The blades would cover a total sweep area of 39,000m2. The part also needed to be manufactured for efficient loading processes, overseas transportation, and straightforward assembly onsite.
The Solution
BFG International successfully undertook the challenge by Siemens Gamesa, providing a comprehensive solution in the form of a segmented composite spinner that adhered to the client's project requirements.
IP protection degree, as well as weight specifications had to be considered. BFG International proposed a solution that complied with DNV (Det Norske Veritas) Germanischer Lloyd guidelines—the world's largest offshore wind energy classification society. BFG International's global knowledge in wind energy solutions, including nacelle and spinner manufacture, as well as experience in sector diversification—such as architectural and industrial operations—helped benefit the SG 14-222 DD project with prior understanding to requirements of the client brief.
The spinner was manufactured at BFG Bahrain. The part size of 100sqm was too large to transport, so BFG International manufactured the spinner into smaller components, ranging between 1 – 12sqm. Spinner segments were now small enough for travelling in standard size shipping containers (H 3 x W 12 metres). Once unloaded, parts were easily fitted onsite of the SG 14-222 DD, with technical assistance and composite expertise provided by BFG International.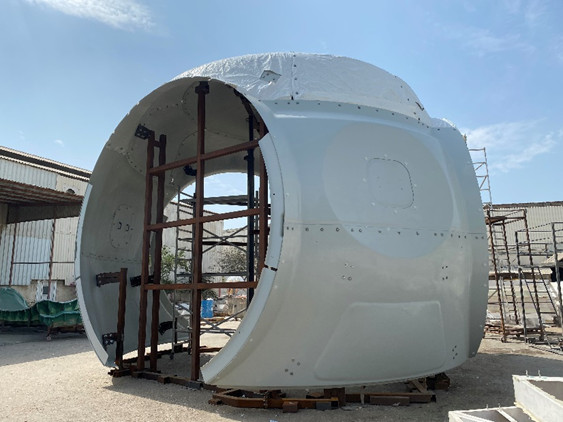 Fiber Reinforced Polyester (FRP) was the chosen material for this project. The composite parts were lightweight for ease of unloading and assembly. Parts consolidation aided in the initial design of the spinner, followed by rigorous R&D development from BFG International process engineers.
FRP was chosen for its lightweight and tensile strength. To combat extreme weather conditions, the spinner was custom tailored to add strength in critical areas of exposure. The mechanical properties of the composite raw materials mix were altered to provide specific solutions to flexural strength, enabling the spinner segments to resist bending deflection during assembly and application. FRP is nonconductive and can withstand constant ultraviolet exposure as well as water and electricity. Additionally, the composite material helps the spinner to easily retain its shape, with strong resistance to inflicting temperature and moisture. The spinner has a long lifespan due to the durability of its composite material—statistically proven to outlast wood, steel, and concrete.
Evaluation
BFG International successfully provided Siemens Gamesa with the SG 14-222 DD spinner in segmentations that were safely transported and assembled onsite. This helped the client to reduce its capital expenditure and significantly reduced transportation costs by almost 90%.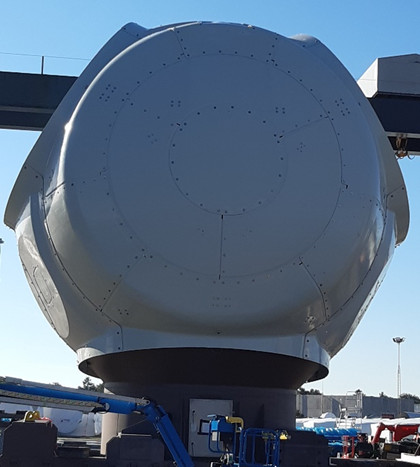 By utilising the most appropriate and advanced materials for the project, BFG International was able to enhance the efficiency, reliability, and safety of the world's most powerful wind turbine. Additional benefits were yielded from the project. SG 14-222 DD is now set to move to serial production by 2024, with an expected 6 spinner sets from BFG International every month. From the success of the initial collaboration, BFG International has partnered with Siemens Gamesa to supply its composite spinner to over 144 wind turbines over the next 2 years.
The reduction in cost has made wind energy a more affordable and reliable source of energy generation, increasing its efficiency with reduced maintenance and overall consumption cost per kWh. BFG International has contributed to advancing the adoption of clean energy solutions and international goals towards net zero and decarbonisation pledges.