Phencore ™
Phencore™ is an advanced sandwich composite invented and trademarked by BFG International. Taking the form of a robust phenolic skinned panel with a honeycomb Nomex core, Phencore™ delivers high levels of flame resistance – and significant weight benefits – in a flexible, customisable form.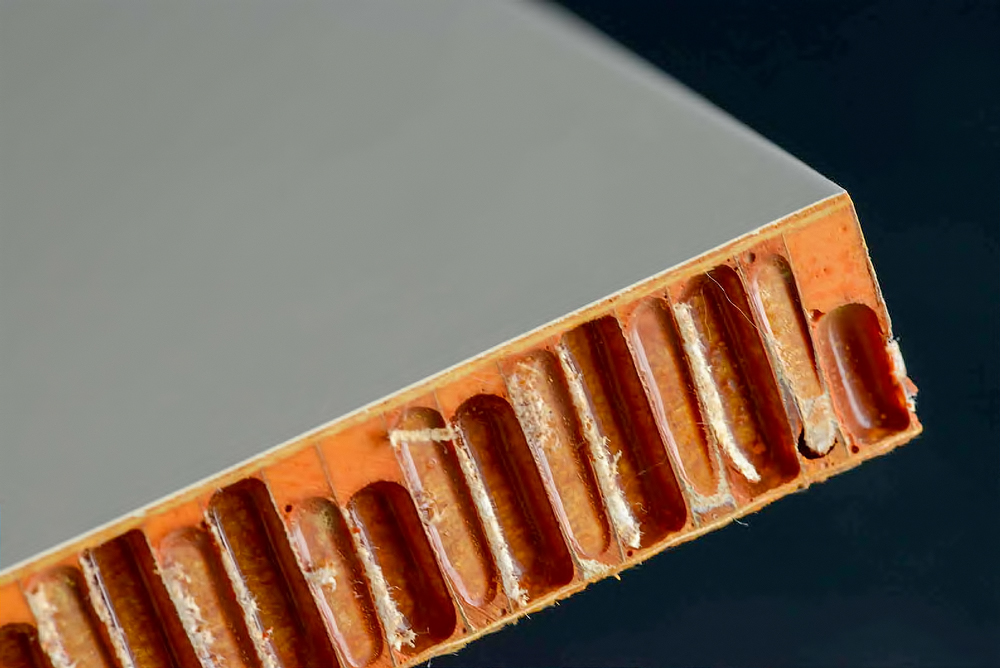 Developed and patented by BFG, and launched in 2013 as an alternative to traditional aluminium honeycomb panels, Phencore™ offers excellent strength and fire performance across a diverse range of commercial, transport and architectural applications. Its strength-to-weight characteristics are impressive - weighing up to 70% less than the equivalent aluminium honeycomb. Phencore™ panels can be delivered in a painted or glossy High Pressure Laminate (HPL) finish.
Phencore™ panel design and construction
Phencore™ panels typically feature phenolic composite skins laminated and bonded to an aramid honeycomb core. Individual layers are bonded using a proprietary processing technique. The cell size in a standard Nomex honeycomb is just 5mm, against a standard 12mm cell size in aluminium honeycomb panels. Phencore™'s lower cell size increases the contact area for bonding and provides better load transfer.
The phenolic resin adds high fire resistant performance and low smoke and toxicity benefits. The aramid honeycomb imparts excellent crush strength, stiffness and structural integrity.
Characteristics
Extremely lightweight
Excellent stiffness
High strength to weight ratio
Excellent fire resistance – meeting standards in the UK, France, Germany, USA, Russia and beyond
High temperature resistance
Corrosion resistant
Excellent dielectric properties
Thermally insulating
Good thermal stability
Good acoustic performance
Easy to repair using standard FRP repair techniques
Can be formed to complex acute and oblique curves as well as flat geometry
Customisation
Phencore™ has fully flexible design architecture, with customisable properties for high-end use. Each panel can be tailored to fit a whole range of specific applications including:
Moulding from flat to three dimensional curved geometries
Assembly using standard techniques or customised to suit assembly interfaces
Availability in a range of thicknesses
Painting with gloss, matt, textured or decorative finishes using HPL.
Applications
Automotive, rail, aviation and construction
Floor panels
Interior panels
External panels
Ceilings
Side linings
Fire Performance
United Kingdom
BS 6853
France
NFF 16101
Germany
DIN 5510
United States
NFPA 130
Europe
EN 45545 (R1 for interior R6 for exterior)
Russia
GOST (30402-96 & 12.1.044)
Category 1a for interior scope
M1 F1
S4/SR2/ST2;
FED( 30 min ) = 0.07
FSI = 5;
Ds (1.5 ) = 14;
Ds (4 )= 47;

HL2
B1 D1 T1
Category 1a for interior scope
M1 F1
S4/SR2/ST2;
FED( 30 min ) < 1
FSI < 15;
Ds (1.5 ) < 100;
Ds (4) < 200
HL2
B1 D1 T1
Contact us to learn more about how PhencoreTM could benefit your next project.