External Mashrabiya Screens and Structural Shading Facades
External Mashrabiya Screens and Structural Shading Facades
For over 40 years BFG International has been producing composite decorative and structural screens, lattices, and shading elements for some of the world's most iconic projects, including a single support 16,000 sqm FRP canopy at the Shaikh Abdulla Al Salem Cultural Centre, Kuwait.
Composites screens and shades are free from the constraints of traditional materials—unusual forms which feed an architect's creativity can be easily fabricated.
The stiffness and durability of composite structures means that most secondary support framework can be eliminated altogether, thereby reducing overall project costs. In addition, the screens or shading elements are prefabricated and easily installed onsite, allowing for quicker construction.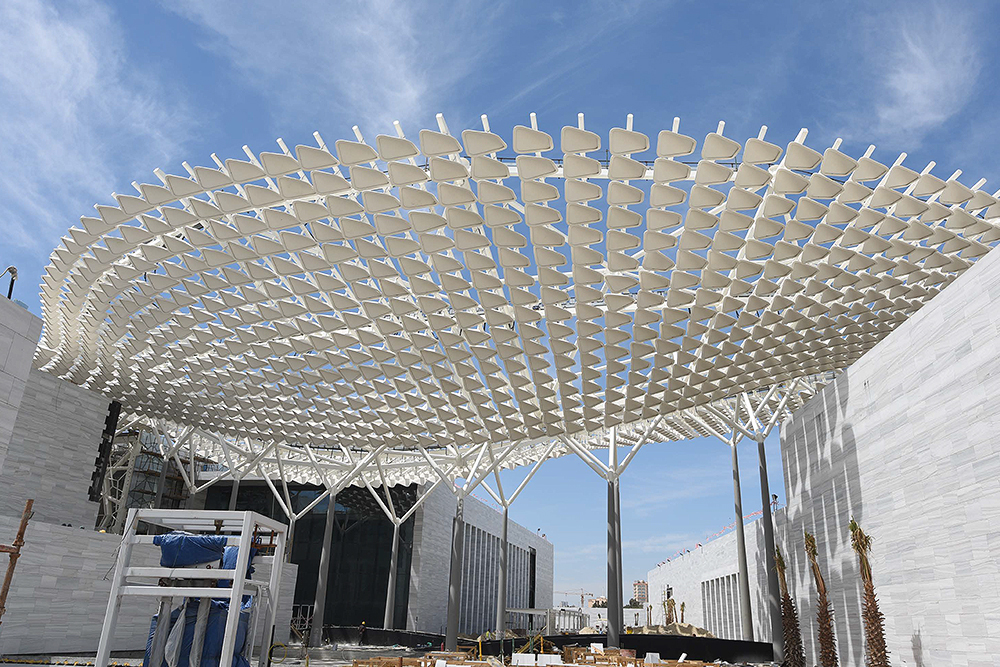 BFG International produces composites in a wide variety of finishes that mimic natural materials such as stone, granite, marble, terracotta, chrome, copper, silver, gold leaf, and many others for a traditional or contemporary look and feel. Composites are much more cost effective and durable than traditional materials, and can be easily repaired if damaged. Contact us to see how we can help you create beautiful structural and decorative screens, lattice work, and shading elements for your residential or commercial project.
BFG International can help you:
Reduce overall project costs
Achieve quicker construction due to prefabricated parts and parts consolidation
Eliminate most secondary aluminium framing and mechanical fasteners
Create designs that are impossible or impractical with traditional materials
Improve thermal performance and energy efficiency due to integrated insulation and reduced aluminium and glazed façades
Meet building code requirements
Achieve LEED (green building) certification
Reduce cleaning and maintenance costs due to material durability and weather resistance
Contact us to see how we can help you create beautiful and dramatic interiors for your residential or commercial project with composite interior wall cladding and decorative elements.