Marine Craft and FRP Floating Dock Marina Systems
BFG International is a pioneer in FRP composites structures for marine applications such as advanced all-composite based marina floating dock systems. Lightweight, highly durable, and resistant to the corrosive effects of saltwater, composites are a superior material when compared to traditional choices such as wood decking and galvanised steel platforms.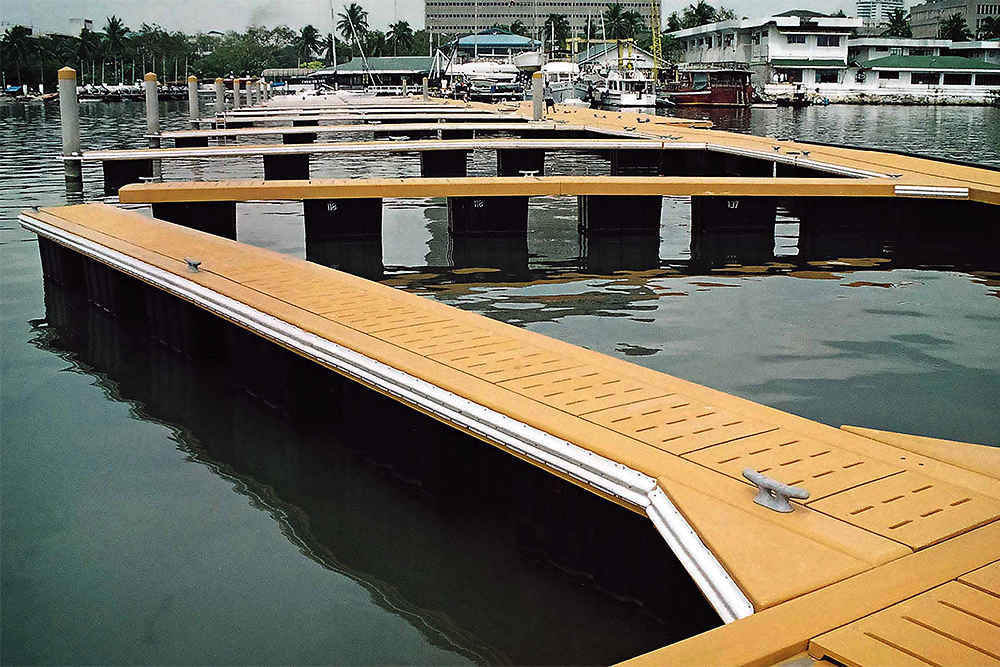 Despite the higher initial expense, the use of composites represents significant savings over their lifetime due to their longevity in the aggressive coastal environment and low maintenance requirements. Wood wears smooth, easily becoming slippery when wet. It can rot, suffer attack by marine organisms and may support the growth of algae. Walkway planks can sag and warp unevenly, creating a trip hazard. By contrast, composites are mould and mildew resistant and offer good anti-slip properties even when wet and in the presence of spilt fuel. Composites are highly impact-resistant, do not splinter and are safe for barefoot walking. UV-resistant and growth-inhibitor compounds can be added to composites to further prolong their lifespan, and they can be designed to mimic the appearance of wood so there is no compromise on aesthetics. The light weight of composites panels also makes assembly easier — lifting equipment is not required.
Summary of BFG International's factory capabilities for nacelle manufacturing:
Reduce overall project costs
Achieve quicker construction due to prefabricated parts and parts consolidation
Prolong the life of your structure
Reduce cleaning and maintenance costs due to material durability and weather resistance
Contact us to find out how BFG International can help you design a next-generation sustainable marina.